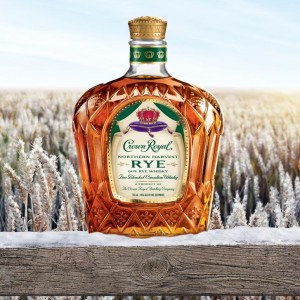 Upfront I should mention I'm not a big fan of Canadian blended whisky, and although I did have a brief affair with Crown Royal's Coffey Rye Whiskey (103 proof!), this is also the producer of the only bottle of whisky I've ever thrown out.
The new Northern Harvest Rye comes in the same bottle, same appearance of whisky, more colorful label, a much less luxurious looking pouch. Also, I am sensing a trend with Crown Royal products, as they seem to all be coming out at higher proof now. This Northern Harvest Rye is listed at 90 proof (40% abv).
The Whisky
This is a blended Canadian whisky and, of course, very smooth. Crown Royal describes their product as "a deliciously balanced whisky, extraordinarily smooth with hints of fruit, cloves and spice."
Often I don't get many of the aromas or flavors that distillers attach to their products and I normally chalk that up to my own limitations. In this case, you definitely detect that it is a rye whisky at a little higher proof. There's a slight alcohol burn in the nose with a sweet rye aroma that is enticing.
This is definitely a sweet tasting whisky. Enough so, as to make me nervous about drinking too much. There is a very slight tingling at the front of the mouth upon first taste. However, the majority of the flavor comes later at the back of the mouth and it lingers there for the consumer's enjoyment.
It has a long finish and the rye in this whisky brings a wonderful flavor that seems to just go on and on. It comes across as a custard like creaminess. The bottom line is this: if you already like Crown Royal and you like rye, then you are going to love this offering. I might also add that if you are new to whisky and enjoy the flavor of rye, this might be a good place to start. If you are not a fan of Crown Royal, you will want to put down your hard earned cash somewhere else.
Often cocktail lovers will use a blended whisky to make their drinks. Crown Royal is famous for being used in this way to make mixed drinks, and for good reason. It's a good place to start in experimenting to find what works for you. You might start with the Crown Royal's own recipes  However, be sure to explore other sites as well.
The Price
A quick check in my local liquor stores here in San Antonio, Texas shows a $28 price tag. The recommended price is a bit higher at $30.
Canadian Whisky Review Rye Whiskey 2015-05-21